Living in a restrictive world has taught us all many valuable lessons, either personally or professionally. It's important to recount what we've all gone through and share our learnings so we can all be better than ever!
We chat to Laura Karai who teaches beginner's street dance on MoveGB through live streaming or in-person at Motion Studios Bristol. Read on to see how Laura has found the changes to her class during the numerous lockdowns and tiers implementations, and how she's kept on dancing and smiling!
Keeping everyone dancing through lockdown - interview with Laura Karai
First of all, tell us a bit about yourself. Who are you, what do you do, and why do you do, what you do?!
I'm Laura Karai, drama teacher by day and street dancer by night! I'm massively passionate about dance being all about self love, self confidence and just having the best time.
I love to come to the studio after a stressful day and dance it all out. I'm so lucky to get to do what I love.
How has it been since reopening after lockdown?
Saying I was excited to reopen my classes in the studio is an understatement. I was so so so so pleased to be back in the room with people wanting to learn and let off some steam.
I'm big on making sure class feels like a group of friends hanging out and that positive atmosphere continued after we reopened. My studio (Motion Studios Bristol) has been amazing in ensuring safety for all and this has been crucial to us from day one.
How have your regular customers reacted?
Everyone was so happy to be back together again, learning from one another. People were keen to know what we had in place to ensure safety and they were really happy with that. After the first session it was like we'd never left to begin with.
What's the atmosphere like now compared to how it was pre-lockdown days? Has your relationship with your customers changed?
I think having fewer people in the studio at once has allowed us teachers to get to know our dancers better.
I teach a beginners street dance as well as an open choreography class and post-lockdown it was far easier to help the beginners grow and work on certain steps. Dancers also leave feeling like they get more out of the session in terms of growth.
Describe how an online class with you works!
We do our usual stretch, little bit of a catch up and then some fun choreography. Be prepared for an hour of sass in the living room!
Dancing at home is a new experience for everyone but people are adapting amazingly! I think it also helps attract new people to the class as they can try dancing out for their first time without being intimidated by being in the studio in person.
I break things down slowly so dancers can follow and use my video as a mirror image for them. I them supply the moves broken down in a short video which I'm happy to send to all the class participants so they can continue to learn the choreography in their own time.
I have had some great feedback and dancers love the break from reality at home. It means a lot to many to be able to move their body despite being away from the studio.
How would you describe the experience of giving an online class to an instructor who hasn't done one before?
After your first one you will feel like a pro! If you're live streaming, your love of dance will still shine through the screen. Don't forget to carefully break moves down for your dancers as it is really helpful.
There are loads of pros to doing classes online, and one of the reasons why it's such a good idea to go digital is that those who aren't in your area (or your country!) can join you. It's lovely!
What have you learned that you didn't know before (about giving online classes)?
That I have an audience wider than I expected! I've had people all over Europe join me and that is an amazing feeling to know that people overseas are learning along with me.
I also learnt how important dance is to people regardless of what is going on in the world - people need and love to dance!
How are you promoting your classes? Are you doing anything differently?
I'm using social media to promote far more than I used to - Instagram posts, Facebook dance groups etc. It's an invaluable way to reach such a wide array of people in many different locations!
I also found posting the routine to be expected in the upcoming class is a great way to engage participants - people love to see what they'll be learning and will share with friends which can help with filling more class spots.
Imagine if COVID-19 was resolved tomorrow (ha!), what would you do with your business?
I wish! Future plans are to continue teaching adults to dance. I will use whatever means I can to do that: livestream or in-person... but probably both!
I'd love to put on more classes and continue to build a great, positive group of dancers. It genuinely makes me so happy so I can't wait to see what the future holds for my studio and I.
What are your top 3 tips for an instructor who is hesitant about giving online classes?
Be kind to yourself - this is a pandemic and no one has done this before. We are constantly adapting and changing and you are doing WELL!
Have fun - remember why you started teaching dance. That will drive you through this tricky time
If you're nervous about teaching an online class I would start by going to someone else's online sessions - you get to see what they're all about and learn what works from being in a class before beginning to host your own. Good luck!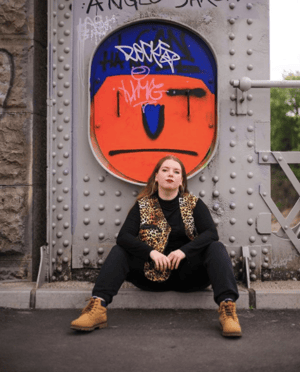 Laura Karai hosts her Beginner Street Dance classes on MoveGB - check the class out here!
Join Laura for this fun confidence boosting dance class which incorporates street, commercial and hip-hop style foundations to help prepare you for some of the more advanced classes available on the timetable!
These classes are aimed at people with little to no dance experience or those of you looking to get back to dance after a break away.
And you can pop over to her instagram to see her ace dance moves and say hi here: @laura.e.dance