Welcome to the latest in our series of interviews with experts from the health and fitness industry and those who are leading the way in developing new blended offerings in the wake of the COVID-19 pandemic.
This week we speak to Stephanie Hutchings, CMO of Gladstone Software.
Gladstone supply operators and owners of leisure centres, sports facilities, universities and health clubs all across the UK and Ireland with leisure management technology. This includes the MoveAnywhere interactive livestreaming platform, expressly designed to expand the reach of fitness and activity classes beyond the confines of the studio.
The impact of COVID on the fitness industry, with Stephanie Hutchings - CMO of Gladstone Software
The world has been a little topsy-turvy for a while but we now seem to be on the other side of the initial COVID-19 shock with fitness businesses really getting into the groove of their adjusted approach. Would you agree with that observation from what you see across the industry?
Absolutely.
Since the start of lockdown on 24th March, we have seen enormous change across the industry as to how consumers want to engage with fitness and activity.
New habits have formed, and consumers are rapidly adapting as they strive to find new ways to stay fit, from Joe Wicks to local PTs advertising digital experiences and even local clubs loaning out equipment.
For me it was discovering mountain bike-riding, so much so in trying to keep up with my teenage son attempting to do jumps I broke a bike! This is absolutely where virtual spin classes come in - as the demand for bikes during the early pandemic months was quite a long wait!
"The industry now needs to find the balance and attract members back into the club safely."
So in my case, offering me something like a spin class would give me the added social connection I just can't get when I'm out on the trails.
It's been an exciting time to see how clubs and operators have pivoted their models to attract members back. And it's given them an opportunity to bring new members, like me, into a club for the first time!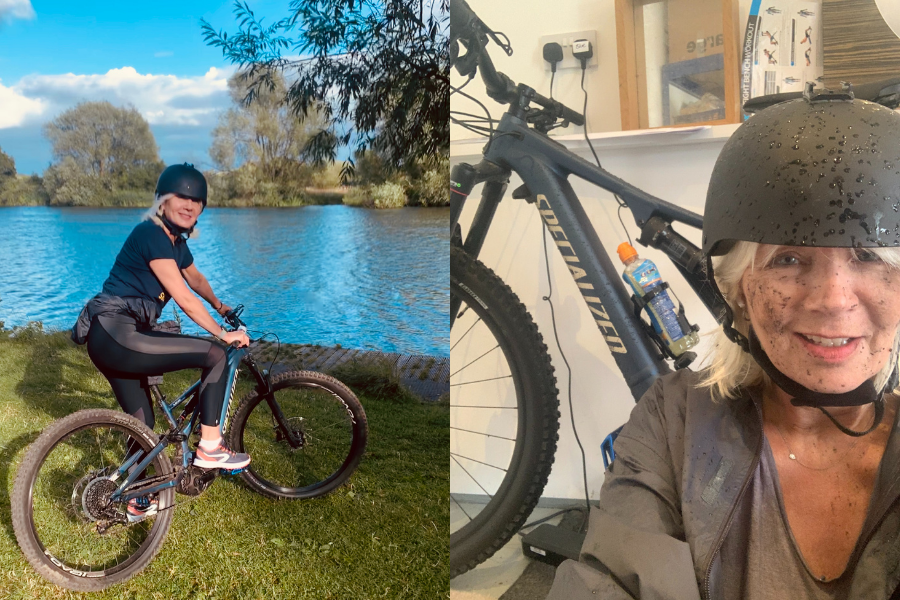 Why should fitness businesses keep a virtual strategy at the forefront of their business planning?
This is such an unpredictable time for everyone with more local, and possibly even country-wide lockdowns a very real possibility.
"It is clear now that leisure operators can no longer afford to wait this one out."
The MoveAnywhere solution from Gladstone, powered by Move, allows operators to quickly pivot from in-centre activities and classes to a purely digital model should the COVID R number increase beyond government guidelines. This allows operators to maintain their ability to earn revenue and keep that vital connection between themselves and their members.
Are enough businesses approaching virtual as you believe they should?
Pre-pandemic, there was little appetite or necessity to explore virtual, with some operators even seeing this as a threat to their business.
Since then the importance of virtual exercise and improving the overall digital engagement strategy has been all too apparent.
Offering blended solutions has been a life saver for many of our operators. Understandably, many members have been hesitant to return to centres, but having a virtual platform allows operators to engage with their members and allow them to book into their regular classes.
It also means that even with social distancing measures in place, extra participants can take part online, ensuring that classes remain profitable.
What are the main drivers behind those who really have developed their strategy to include virtual?
We live in a global economy where competition is no longer just the local gym over the road but anyone individual or specialist offering exciting classes.
What was originally just seen as a temporary solution to turn to virtual, now needs to be viewed as a long term strategy. With shielding for older and vulnerable members and self-isolation for some, it is clear now that virtual is not just a quick fix.
Operators need to adapt to maintain their customer connection. With a virtual or blended approach to fitness, this connection will be continuous, and not 'stop-start' as it would be without any virtual offerings in these uncertain times. Customer engagement is maintained, and it opens up opportunities for those unable to travel, or even new members who live a considerable distance from a centre.
It also provides opportunities for fine-tuning the quality of classes being offered. For example, PTs who have moved away can still deliver part time sessions for their old clubs even though they may no longer live in the area.
What are you seeing in the data: i.e. how does this year compare to last year in sales and in attendance?
Our operators are among the most robust operators in the UK economy. Lockdown for them wasn't a 'sit-and-wait-it-out' situation, it was the time to adapt to these changing times and to look at future solutions while they had some time away from the day to day running of their centres.
Naturally, attendance is somewhat down due to our unprecedented situation.
As larger centres have staggered opening across their sites, we are seeing classes reach capacity due to the density limitations brought on by social distancing.
However, MoveAnywhere is enabling centres to sustain attendance numbers with blended classes, and in some capacity is exceeding previous numbers, where popular classes can overflow in the virtual sphere.
Most importantly for our operators in the current climate of 'local lockdowns', the ability to add digital subscriptions enables them to maintain a predictable revenue stream should the centre be temporarily closed.
Are operators deploying virtual in different ways or is it a similar approach?
Most are taking the blended approach to delivery, with a mixture of both virtual and in-centre offerings. And we are also seeing new types of membership advertised to provide access to digital-only as well as blended, tailoring to members' needs.
"It is providing new ways for our operators to differentiate themselves, and really carve out a niche for themselves in the virtual sphere."
We are also seeing operators care about the quality of the virtual delivery; as such, the industry accreditors for PTs are looking into building courses to support operators and their PTs around best practice for virtual delivery.
There is nothing worse than a bad experience, and this certainly applies to virtual fitness classes as well.
Is virtual here to stay or a passing phase?
Virtual is here to stay! Obviously, the pandemic has kickstarted this movement but the benefits of virtual are clearer than ever.
By offering all of the perks of going into a centre for a class - social interaction, motivation, trusted and quality instruction - and a weekly routine to stick to, virtual also eliminates commute times and enables those who can't travel or are isolating to attend classes. And anyone, no matter what age or ability, can engage with virtual classes, making it extremely accessible.
"Now that we've seen how the fitness industry can utilise virtual, I believe this will continue in the future and this blended approach of online and in-centre class delivery will become the new flexible way to exercise anywhere."
Have you noticed any particular trends within virtual? Any classes suddenly booming which perhaps weren't before?
People are definitely getting creative with their virtual classes! The other day I saw an advert for a virtual hula-hooping fitness class and even virtual disco yoga. You name it, it's probably being done.
Yoga has always been a popular class but we are noticing that now more than ever it's booming. I think from all the hours of remote working, and in many cases not having a decent chair or desk setup, many of us are experiencing tight muscles and need a good stretch. Plus, all you need is a mat and you're good to go.
Do you personally attend any other online fitness classes, and if so - which ones and why?!
I'm definitely keen to try out some online boxercise classes! I've heard great things and it would be a perfect way to de-stress and unwind after a day's work.
Virtual is a great opportunity for people to try out classes which they might previously have been nervous about going into a centre for and being the newbie. Still getting the proper instruction but boxing away in my living room seems much less intimidating!
Thanks so much Stephanie!
Stay tuned for more home fitness expert interviews on the Move blog soon!